Quality and care without compromise
Level 10 & 11, 1 Newland Street
Bondi Junction NSW 2022
Level 10 : Procedures
Level 11 : Consultations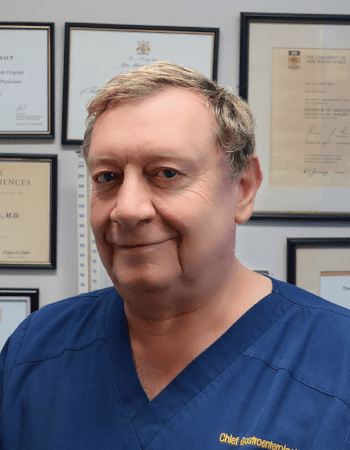 Dr. Eric Wegman (CEO)
MB BS(Hons) UNSW, PhD USyd, FRACP, GIA(cert)
As a young doctor, Dr Wegman had a vision for a centre of medical excellence focusing on his chosen field of Gastroenterology, supplemented by a range of supporting medical specialisations, and he founded The Newland Street Specialist Centre in 1992. The Centre incorporates The Sydney Clinic for Gastrointestinal Diseases & The Sydney Clinic for Ocular Diseases and Disorders. The Centre has maintained a strong commitment to the local community and beyond, providing high quality, patient centred care in a safe and relaxed environment.
Dr Wegman continues to be the proprietor, Chief Executive and driving force behind the Centre which continues to grow and flourish.
Dr Wegman is a Clinical Gastroenterologist. He graduated his medical studies in 1978 with Honours from The University of NSW. He obtained his Fellowship at The Royal Australian College of Physicians in 1985. In addition, he was awarded a Doctor of Philosophy (PhD) in gastrointestinal physiology by the School of Medicine from The University of Sydney (1993).
Dr Wegman's special interests include diagnosis of and management of inflammatory bowel disease, colorectal cancer screening and surveillance, gastro oesophageal disease, coeliac disease, and irritable bowel syndrome. He maintains a special interest in looking at disease from the perspective of abnormal physiology.
Our Philosophy
To diagnose illness early,
prevent disease and cure when we can,
to help and comfort always.
We value feedback and would like your comments on your experience.
Please send it to feedback@nssc.com.au or post to Quality Manager, 10 / 1 Newland Street, Bondi Junction, NSW 2022
If you have any concerns, problems or suggestions, please do not hesitate to contact us- Quality Manager or Practice Manager – 02 9369 3666.
Alternatively, you may wish to express your complaint in writing. Please forward them:
Email: feedback@nssc.com.au or post to Quality Manager, 10 / 1 Newland Street, Bondi Junction, NSW 2022.
All complaints will be handled with confidentiality.
Any matter which is not resolved to your satisfaction may be taken to the NSW Health Care Complaints Commission on 1800 043 159 or at www.hccc.nsw.gov.au.